GUGGENHEIM MUSEUM EXHIBITION WEB PAGES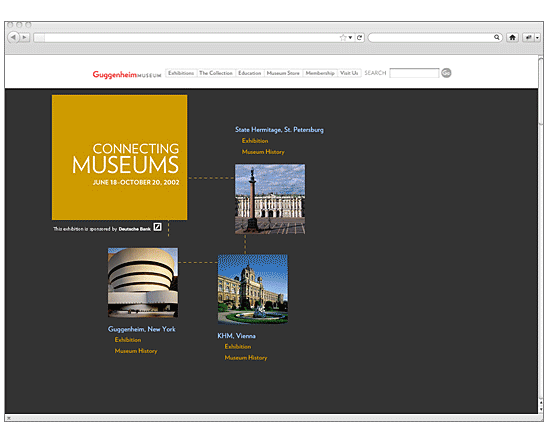 (above) CONNECTING MUSEUMS
The home page was designed to convey the unusual concept behind this exhibition whereby works of art traveled between museums, connecting them as international partners. Once inside the site, the viewer has the ability to connect to any of the three museums instantly.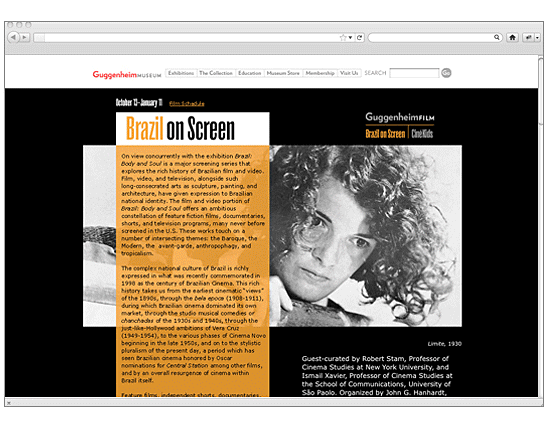 (above) BRAZIL ON SCREEN
A film series site that accompanied the larger Brazil: Body & Soul exhibition. Users could scroll through and check out film synopses and listings within a film strip-style scroll.
(above) MATTHEW BARNEY, THE CREMASTER CYCLE
The website plays on the lush imagery from the exhibition and the artist's overall aesthetic. One of these elements, the satin fabric, serves nicely as an opening curtain on the home page as well as the printed invitation.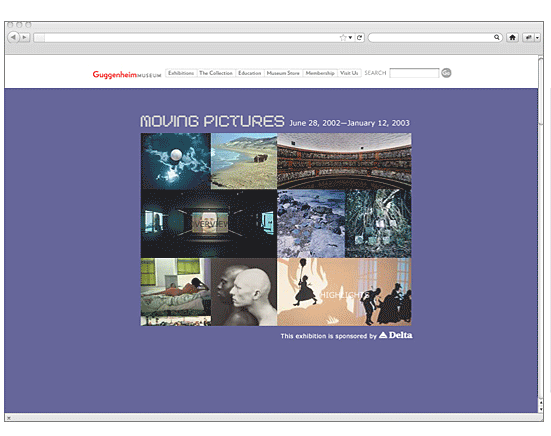 (above) MOVING PICTURES
The intro page was inspired by the block pattern of the exhibition design. We took it one level further and made the featured artwork fade in and fade out to convey that this show includes cinematography and not just photography. The grid of different artist's work also let visitors know it was a group show.